Home School Day Experience – October 10, 11, 12, and 13, 2023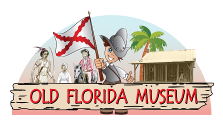 Attention: Home School Leaders
Old Florida Museum is pleased to announce the best Home School Experience ever; our Fall Home School Day Experience!
Our day starts at 9:30a.m. and runs to 2:15p.m. You will tour through 4 separate programs of different Florida history. Guests should plan to spend approximately four hours with us.
This interactive experience is facilitated by costumed guides providing history and instruction in the use of tools, games and take home projects for each historical time period.
– Timucuan Indian Program
– Spanish Colonial Program
– Florida Cracker Program
– Dirt Detectives Archaeology Program
Advanced ticket sales are $19.95 and $22.00 at the door day of.
Tickets go on Sale September 12th
Payment at the time of reservation is required to complete your reservation. Children under 18 must be accompanied by an adult. (* Please note: coupons or tickets purchased or received from outside retailers are for our General Public tour only and may not be used for the Home School Experience. )
CLICK HERE TO DOWNLOAD OUR FLYER
These are guided educational tours, and are not to be confused with the General Public admission.
Regular admission price for all 4 programs for school children and adults is $22.50 per person.
Space is limited so please call the museum at 904-824-8874 for reservations now.
The Old Florida Museum
7900 Old Kings Road N
Palm Coast, FL 32137
For more information e-mail us at Homeschool@oldfloridamuseum.com
Spread the word to your friends and family about this event!
See you there!
Daniel Carignan, Educational Director