Home School Day Experience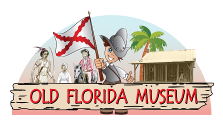 The Old Florida Museum at the FL Ag Museum is pleased to announce the Home School Day Experience on special days during the school year. Please watch for upcoming dates.
As the Covid-19 situation changes on a daily basis so do we. Please call prior to your visit to hear about our current face mask & Covid policies.
You will cycle thru 4 different programs during the day starting at 10:00am and ending at 2:00pm.
Programs include:
– Spanish Program
– Dirt Detectives (Archaeology) Program
– Homestead Pioneer Program
– Timucua Indian Program
Each day's itinerary:
9:00 AM – Gates open
9:30—10:00 – Check-in & Registration
10:00—10:45 – Program 1: Dirt Detectives Program
10:45—11:30 – Program 2: Spanish/Fort Mose Program
11:30—12:30 – Lunch: Eat offsite of bring your own lunch
12:30—1:15 – Program 3: Pioneer Homestead Program
1:15—2:00 – Program 4: Timucua Indian Program
IMPORTANT: We are only allowing up to 50 persons per day and they will be divided into two groups of up to 25.
We encourage you to preregister early to avoid missing out on this experience. If any day is sold out tickets will not be available at the door.
The cost is $19.95 per person for ages three and up.
Registration starts at 9:30 and your first program begins at 10:00 sharp. Each tour will be approximately 40 minutes.
There is also a 60 minute lunch break so guests should plan to spend the day to visit the entire museum complex.
This interactive experience is designed to expose students to daily living activities of the Timucua Indians, early Spanish settlers, Florida Pioneer children, as well as the field of archaeology.
All guests entering the museum must purchase a ticket including students and adults.
Children under 18 must be accompanied by an adult.
Costumed Guides will provide historical instruction in the use of tools and games for each time period.  Participants will also complete a take-home project.
Old Florida Museum includes a Spanish house, a Florida Homestead Cracker house, 70' Spanish Caravel Sailing Ship replica and a mock archaeological dig. It is recommended you bring a boxed lunch. Coolers are welcome. We also invite you to visit the Old Florida General Store, featuring many unusual and old-fashioned items.
For directions CLICK HERE
For more information: e-mail us
Daniel Carignan,
Educational Director