Home School Day Experience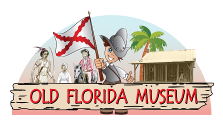 For over 20 years Old Florida Museum (OFM) has been catering to the dedicated Home Schoolers.
We are glad to say that we are back up and running at our new home located in the Florida Agricultural Museum. Due to overwhelming request and current COVID19 situation, we are moving the date and adding additional days.
Daily Schedule:
-Registration 9:30 am
-Morning Session 10-11:30 am
-Lunch 11:30-12:30
-Afternoon Session 12:30-2:00 pm
Ticket prices are $19.95 per person ages 2 and over.
Pre-registration is highly recommended. Tickets may not be available at the door.
There is a minimum of 15 person per day and a maximum of 50 persons and will be in 2 groups of 25 each. If the minimum is not met for any one day by October 1st, you will be notified and have the option of a full refund or date change if one is available.
Temperatures will be taken day of and anyone over 100 degrees will not be allowed into the museum. If you have a temperature or feel sick, please stay home. Face masks must be worn at all times while in the museum. No exceptions.
Programs and schedule will be listed soon. Thank you!
Help us get the word out to the Home School community if you know someone who may be interested!
For more information: e-mail info@oldfloridamuseum.com
See you there!
Daniel Carignan
Educational Director